Medical Transcription
---
Overview:
At Indus Valley, our vision is to deliver quality, one to one service ensured through a well-defined process covering every stage of its activity. This combines the best of contemporary management techniques to optimize the organization's ability to effectively leverage available talent, knowledge, and experience.If you are looking for the quality transcription service with strict turnaround time, we promise you to deliver the both.
Indus Valley is fully committed to serve customers round the clock, seven days a week.
Everyday hundreds of medical practitioners are benefitted not only in terms of saving recurring cost and thereby multiplying business productivity and revenue generation while working with Indus Valley. This is evident when you receive a fast, secure and accurate transcription service at an unbelievably low cost. Call us now to experience 7 days of no obligation free trial service.
Once subscribed to our services, you shall have a responsive team working for you round the clock seven days a week. Our work force comprises of highly educated, trained and experienced professionals. We employ the best practices and processes and consistently evaluate them to keep pace with ever changing technological environment.
We offer a number of significant advantages that makes us an excellent choice as your next medical transcription service provider.
---
Transcription Process Features
Quality of Service (QoS) consistently providing more than 99% accuracy
Turnaround time (TAT) is 24 hours or less for regular reports
Competitive rates
Smooth transition from existing service provider
Customized templates are undertaken as per client specification
Unlimited archiving of the transcribed reports
HIPAA Compliance
Bulk and referral discounts
No advance payment. Monthly billing
In summary, Indus Valley is committed to provide fast, accurate, secure and cost effective transcription service
Limited time free trial offer:
Indus Valley offers a no obligation free trial worth value $50.
---
Rates
The applicable rates depend on factors as outlined below.
Average monthly guaranteed volume
Type of dictation
Dictation quality
Recording quality
Except in case of radiology where the charges are per report basis, average transcription charges varies from 7 cents per line to 10 cents per line.
Apart from per line rate, we also offer rates on per minute recording basis. Send a quote >>>
---
Transcription Process
This section outlines the process of recordingand sending dictation
Phone dictation system
Digital Voice Recorder
Desktop recording and/or Mobile recording for advance user
Phone Dictation System
We have in house phone dictation recorder. This is the easiest way for recording and transmitting your dictations in shortest possible time. For the purpose of recording your dictation we have installed the state of art dictation recording server which meets and exceed HIPAA compliance.
The authors are provided with a toll free line and a PIN (Personal Identification Number) to log into the system
The main feature of the phone dictation system includes:
The phone dictation controls inc lude record, play, rewind, fast-forward & record edit.
HIPAA Compliant encryption to secure patient or client data.
Recordings can be saved and retrieved at a later date for amendment.
Digital voice recorder
For the purpose of recording dictation, authors can record their dictation on digital voice recorder of their choice. These recordings can be transmitted to our webserver through a computer/laptop/ notebook device connected via a secure internet connection.
For the purpose of transmitting these dictations, users are provided with secured passwords protected access to webserver. Once logged in, the users can securely upload their dictations with ease of use.
Desktop recording and Mobile recording for advance user
These are the new and modern way of recording dictations for advance user by means of using either a computer device or hand held smart phone devices. A number of mobile recording applications are available through iPhone market or Android market.
Delivery of the reports
Final transcription are then uploaded back to the FTP server. These reports can be downloaded after securely logging into the webserver.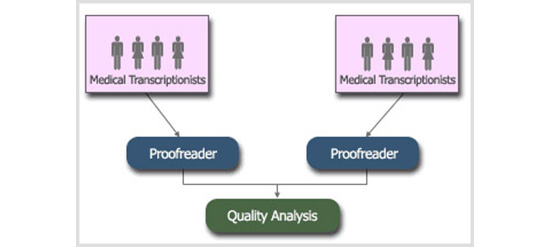 ---
Professional EMR Integration Services
Indus Valley Inc. also offers the state-of-the-art technology to integrate EMR with transcription platform to all the available EMRs of our clients. Since EMRs have become an essential part of healthcare industry, we at Indus Valley therefore propose to interact with the client's specific EMR platform with transcription. EMR integration would cater to never ending technological and healthcare pursuits. We have a specialized team of professional having profound experience in EMR.
We at Indus Valley would go hand in hand with our clients to meet specific requirement and would work to achieve goal of providing technology embedded EMR/EHR integration.